All-on-4 Dental Implants – Huntington Beach, CA
Get Your Smile Back Faster Than Ever
There are millions of Americans right now who are missing all of their teeth. Unfortunately, many of them are not satisfied with their dentures. The good news is not only is there a more effective solution to replacing multiple teeth at a time, but you don't necessarily have to go without a denture just to complete treatment. With All-on-4 dental implants in Huntington Beach, CA, you can experience the most comprehensive tooth replacement method out there, all without sacrificing your smile for months on end. Learn how by scheduling an appointment with Dr. Braga today!
Why Choose Huntington Beach Periodontics for All-on-4 Dental Implants?
Works with Experts for Restorations
In-House Placement for Convenience
Cone Beam Scanner and CT Scan Imaging Technology
What is All-on-4 Treatment?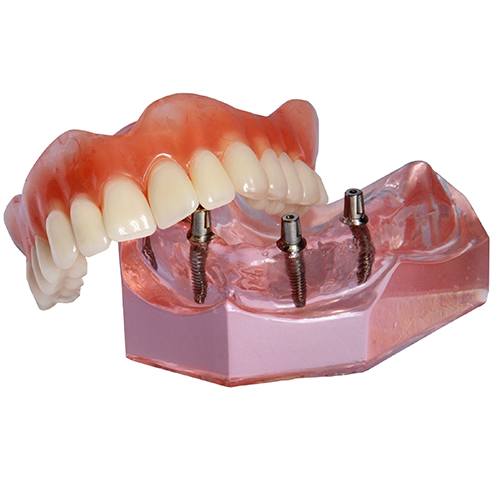 The All-on-4 treatment is a unique method for placing dental implants, similar to that of implant-retained dentures. The main difference is that instead of placing several dental implants throughout the jaw to hold a partial or full denture, All-on-4 only requires four dental implants to hold a full arch of teeth. This makes it especially ideal for those who do not want to settle for a traditional denture any longer and also prefer to keep their smile as their implants heal. It's one of the most cost-effective methods for restoring several teeth at a time, especially since you do not need to replace nearly as many implants to do so.
How Does It Work?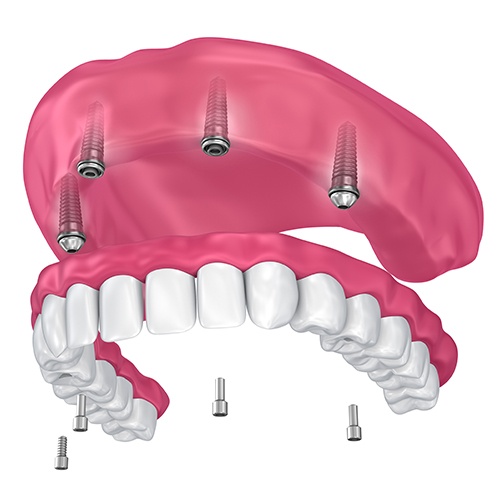 The process is relatively straightforward. After planning your implant treatment and confirming your eligibility for receiving dental implants, we'll schedule you for surgery to place the implants directly into your jawbone. This is done by making a small incision in your gum tissue and placing the implant, allowing it to begin integrating with the bone. As part of our planning process, we will have a temporary restoration ready to place the same day so you can maintain your appearance. You'll come back to our periodontal office for routine checkups to confirm the implants are healing properly as well as to receive your permanent restoration.
Is All-on-4 Right for Me?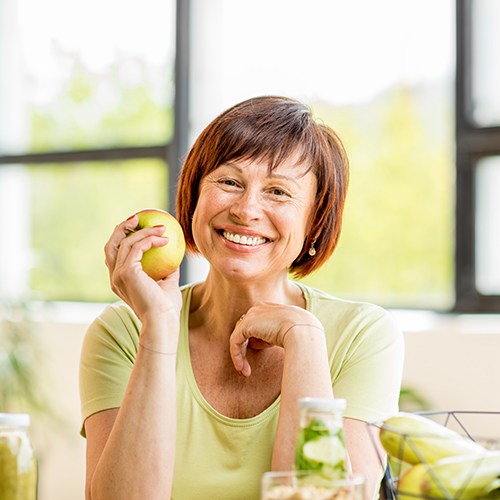 Chances are if you've had missing teeth for a very long time, you can still benefit from treatment. Keep in mind that since only four implants are used to hold your permanent restoration, you do not need as much bone tissue for the integration process. In fact, many people who want to replace teeth with dental implants will not need to undergo a sinus lift or bone graft just to have implants placed. If you have healthy gum tissue, good oral health overall, and are tired of dealing with a loose denture, All-on-4 is likely for you.
What are the Benefits of All-on-4?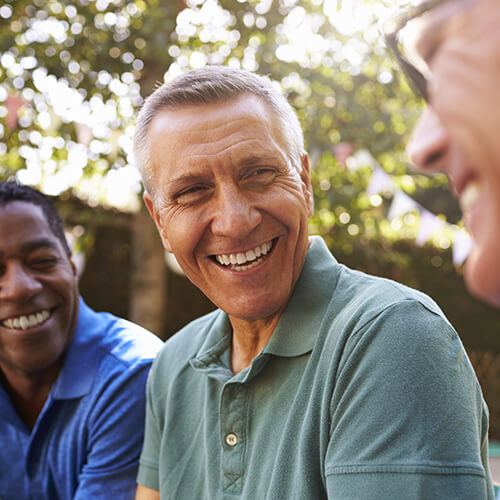 When you choose All-on-4 over implant-retained dentures, you're actually able to maintain a beautiful smile as your implants integrate with your bone and gum tissue. For many, the four-to-six-month-long healing period for dental implants is enough to turn them off to treatment entirely. All-on-4 helps you avoid that since you'll be given a restoration to wear while the implants heal. Additionally, All-on-4 is ideal if you want to save money on implant treatment simply because you do not need more than four implants to restore your smile. Not only does this lower costs, but it also reduces your overall post-op care.
All-on-4 FAQs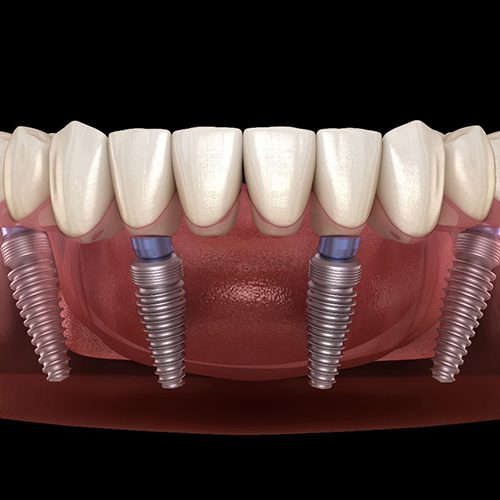 All-on-4 is a unique approach to implant placement, and you'll probably have plenty of questions about how it works. As an expert in dental implant placement, Dr. Braga is well-prepared to answer any questions you have regarding the All-on-4 process. Below are some examples of questions that we often hear from our patients, and we hope the answers we've provided are as helpful as they are informative. Don't forget to call our office if there's anything else you want to know about dental implants in Huntington Beach.
Will All-on-4 Look Natural?
You won't have to worry about anyone noticing the implants themselves; both the gum line and the prosthetic teeth they support will obscure them from view. In the meantime, the crown, bridge or dentures you receive will be specially designed just for you so that no one can tell that it's an artificial restoration. Your facial features, skin tone, age, and other factors will all be taken into account to ensure that your new teeth are the correct size, shape, color, and proportion. We'll make sure that you're satisfied with the appearance and comfort of your prosthetic so that you can go out into the world with a confident new smile.
How Many Visits Does All-on-4 Require?
Like any dental implant procedure, All-on-4 requires multiple visits. The timeline will be slightly different for each patient, but you can often expect it to look something like this:
You'll have one or two initial consultation appointments where X-rays and impressions will be taken.
At your next appointment, you'll receive the implants themselves along with temporary new teeth. Extractions might be performed at this point as needed.
At least two post-op visits will typically be required to make sure your mouth is healing correctly.
After about four months, you'll visit our office to take impressions for your permanent set of teeth.
Finally, roughly six months after the surgery, you'll visit our office one last time to have permanent dentures anchored to your implants.
Why Do I Need to Wait to Get Permanent Teeth?
Even though All-on-4 implants are usually strong and stable enough to support temporary dentures, the mouth still needs time to heal. The restoration you receive on the day of the surgery won't put as much stress on the posts or the rest of the gums, meaning you can enjoy new teeth while avoiding complications. You'll need to be careful, however; you should only eat semi-solid foods that can easily be cut with a fork. Apples and other foods that need to be torn with the front teeth should be avoided.
Should I Have All-on-4 Placed on Both Arches at the Same Time?
Depending on your situation, you may be unsure whether or not you should receive the All-on-4 treatment for both your upper and lower jaw. It's generally okay to have the implants placed in just one jaw if that's your preference, but it's typically recommended to have the procedure done on both at the same time if you think it'll be necessary eventually. This will save you time and money in the long run.